Gealach Mor Siberians

Working sleddogs - just for the love of it..............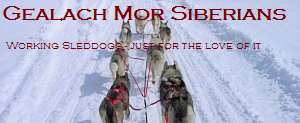 Notes

A failed attempt to run a 4 dog and a 3 dog team in a couple of races. My main 4 dog team of Oakley and OB as leaders with Tulsa and Bhu at wheel continued to be solid. However, running the additional team affected training routines and they haven't improved as much I would have hoped.

The 3 dog team of Tindale, who has no desire to run and the 2 girls who are not that bothered either, has lead to them all being officially "retired".

Missing our start time on day 2 of the Kirroughtree race cost us 10 minutes and 4 places in the finishing order.

The arrival of imported Seppalas, Vader and Beth in Nov 2002, curtailled our racing season as I worked on their fitness, sadly lost following 6 months in quarantine. Our one outing as 6 dog team was very successful, resulting in 1st place at both the 10 mile race and the shorter 4.5 mile on the second day.

Date

26/27 Oct

26/27 Oct

16/17 Nov

16/17 Nov

23/24 Nov

23/24 Nov

29 Mar

30 Mar

Location

Devilla

Tentsmuir

Kirroughtree

Leannachan

Team

Oakley, OB, Tulsa, Bhu

Keetna, Ribhinn, Tindale 

Oakley, OB, Tulsa, Bhu

Keetna, Ribhinn, Tindale

Distance

3.4 miles

3.4 miles

4.5 miles

3.2 miles

3.6 miles

3.6 miles

10.1 miles

4.5 miles

Time

16.12 / DNS

18.14 / DNS

23.40 / 21.33

17.20 / 17.31

18.04 / 26.57*

22.13 / 24.25

1 05.10

22.00

Position

DNF

DNF

10th

19th

8th

6th

1st

1st