Gealach Mor Siberians

Working sleddogs - just for the love of it..............

Born     31.07.96    Died  18.10.2005                      Gender  Male                       

Colour   Black and white piebald                             Weight : 55lbs

Position : Leader

Our very first Siberian Husky, his full name is Gwaihir Sharmichutkha. Born in July 1996, Oakley was so named because of the two dark patches over his eyes - his sunglasses. Unfortunately as he matured, those patches faded so now I'm left to explain how he came by his name.

A generally good natured dog, Oaks leads the pack at home and on the trail. A very confident dog, he rules peaceably, a stare and a quiet deep growl often being sufficient to quell any of the boisterous behaviour that he feels is in danger of getting out of hand.

At home, he loves lying in front of the stove until sufficiently roasted as to convince you that there is a definite smell of cooking dog.

However, it is out on the trail that Oaks really does show his strengths. A trusted leader, he is excellent on gee/haw turns and is happy bossing over any dog running up beside him who doesn't quite catch the command. He is not so keen on leading across wide open snow blown expanses without any definable trail  however, that is hardly ever a problem for us here in Scotland.

Oakley as a 4 month old pup. If you look carefully, you can see the last of his sunglasses...........

Tentsmuir Forest

February 1999

Cats and Sibes can co-exist -

but supervision is suggested.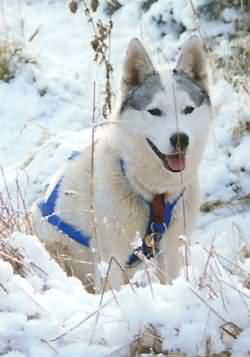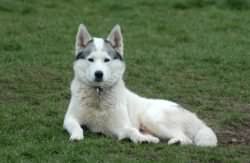 Oakley, always very at peace with himself.

April 2005