Gealach Mor Siberians

Working sleddogs - just for the love of it..............

Born:  21.01.01                                      Gender:  Female

Colour:  White with black saddle         Weight:  40 lbs

Position:  Team

To quote my wife  Ribhinn is gorgeous. Just exactly how gorgeous is evinced by the fact that she will say it two or three times a day. Her name is Gaelic for "little girl" and is pronounced Reeven  -- apologies again to any Gaels for mutilating the language.

She is a complete darling -- as thick as thieves with
Keetna
- it is quite common for the pair of them to spend hours digging for any small animals they think might be tunnelling across their yard.
Ribh has never shown any interest in our boys until the arrival of
Vader
. Whilst it may be a bit extreme to call her a tart with him  her behaviour has certainly gone far beyond a polite welcome.
In complete contrast to Keetna, Ribhinn loves running. The sight of harnesses, lines, rigs or even the van being opened is enough to send her loopy with excitement. She runs around screaming and doesn't stop until she's put in her box. A nice steady worker, she is another of our dogs who won't quit, although, like Keetna, she too finds that the pace can get a bit much for her. Hopefully, as she matures and spends a full season working with the "big team" she will come into her own.

Unfortunately this has not turned out to be the case.  After missing a couple of winters because of other factors, her return to working in the autumn of 2005 has not been quite the step forward we hoped for. I'm not quite ready to give up on her yet as her siblings are still working at their home kennel.

Isn't she cute ?  Ribhinn at 13 weeks.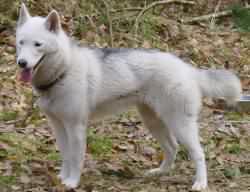 SDAS race at Aberfoyle - March 2002

Oct 2005 - a much more mature lady