Born:      15.06.1999                              Gender:  Male

Colour:   Grey/White                             Weight: 55 lbs

Position: Team or wheel

Introducing to the UK, RiverDance's Vader of Sepp-Alta.

Following his release from quarantine in Nov 2002, Vader has settled in well. A hugely personable dog, he has handled the enormous changes with both style and charm. Very laid back and a real gentleman, Vader has been a delight to have around for the short time he has been with us so far.

Last season he ran on Taymarr's Kennel first string race team in the US  a part of the successful 12 dog mid-distance team running 30 to 60 mile races.

In training Vader has finished our much shorter trails barely out of breath and seems surprised that he is going back in the van.

He and
Beth
(his fellow Seppala import) have slotted right into my team and are proving to be as good as we could have hoped for. Vader is one of those dogs for whom hook up time is time that should be spent out on the trail running  and he isn't shy about letting you know it. Once the snub is released, he throws himself into his harness and powers from start to finish.
In Sept 03, Vader sired a litter of 8 pups with our Beth as the dam. He has shown himself to be a fine father figure and is a good example to them all - except when it comes to hook ups. Harness and line chewing does indeed seem to be genetic !

2004 - 2005 season  In Sept 04, Vader flew back across the Atlantic and returned to New England with his pups to spend the winter racing there again. A steady, if unspectacular performer, Vader didn't make the first string team - a testament to the qualities of the pups he has produced.

2005 - 2006 season  Vader has had the luxury of sitting back and relaxing a lot this year. Our much curtailed season has meant that I have concentrated on the younger dogs and left the seasoned campaigners to look forward to next year.

2006 - 2009 seasons  Vader is a mass of contradictions - a complete lunatic on many occasions, brief sparks of genius and the rest varies from good down to average. He ran regularly in training adding his inimitable style to the team - safe to say he never made it onto the race teams in any of these seasons.

June 2009

Now aged 10, he can enjoy a relaxed retirement. He still likes to get harnessed up - but that seems to be mostly so he can chew on it.

In quarantine, July 2002

And yes, before anyone asks, he does have the tip of his left ear missing.

After a training run at Aberfoyle, March 03

Snoozing in the Fall sunshine.

Oct 2004

Back home in the UK  April 05, 3 trips across the Atlantic in 2 years - Vader should really be sponsored by British Airways.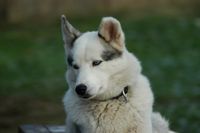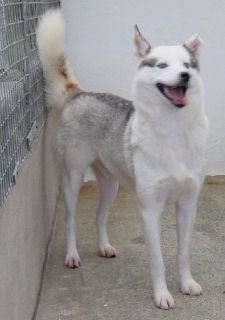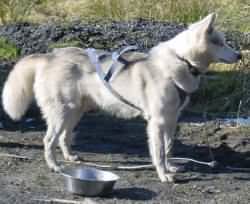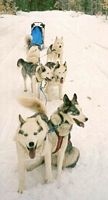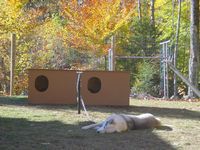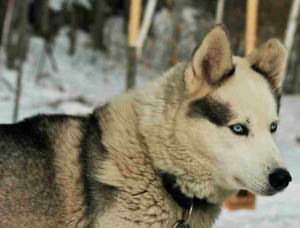 Gealach Mor Siberians

Working sleddogs - just for the love of it..............