Gealach Mor Siberians

Working sleddogs - just for the love of it..............

Born 30.10.96                                                Gender: Male

Colour: Red                                                   Weight   50lbs (and getting bigger since

Position: Cheerleader  and puppy amuser                                 his retiral)                                                                                                                                                                                                                                                                                   

Tindale, Tinman, TinTin,  big red or that useless noisy lump in the corner  -- you can pick your pet name.

KC registered as Sassicaia Red Willow, he was rather spookily born on the same day as Tulsa, to the owner of Tulsa's father.

Our first season running ( I think to use the word racing might be a bit optimistic) Tin ran up front beside Oakley in a 3 dog team.

He ran but never really contributed anything other than grief and hardship. Never in the history of sleddog racing has one animal gone for quite so many dumps in any race - in every race in fact. As soon as the next dogs were ready to run, Tindale was dropped --  although he still likes to come to a race day  just to scream and dig on his stakeout chain.

He was briefly returned to the starting line up of the second stringers this year,  to "help" the young girls. A triumph of optimism over common sense, Tin had one decent run before remembering that he didn't actually do the "race thing".  A recent bout of escapism from him has seen him turned into a house dog.

Tindale has contributed in his own way to the urban legend that is " red dogs don't run"

Since the birth of Beth's pups, Tindale has found a new job!  He is now chief puppy entertainer and chew toy.

Tindale having a rest after a training run.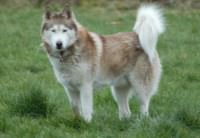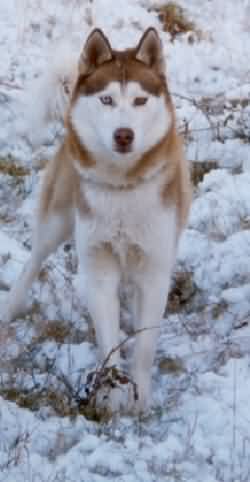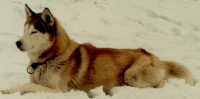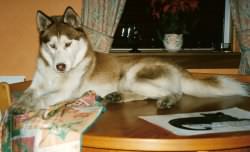 Retired and living the easy life.

As a young dog, Tindale liked the view from the dining room table.