Gealach Mor Siberians

Working sleddogs - just for the love of it..............

Born      : 30.10.96                                       Gender : Male

Colour    :  Red and white piebald                     Weight : 65lbs

Position : Wheel

A half brother to
Oakley
, Gwaihir Strekosa, was the ugliest puppy I have ever seen!!  I'm pleased to say that he has proved to be the proverbial ugly duckling and has matured into a fine looking male.
Tulsa would never start trouble, but he is certainly happy to join in  and he doesn't really care whose side he is on. Devoted to his half brother,  Tulsa will follow Oakley anywhere --  except downhill at speed. A big dog, Tulsa works hard out on the trail and is a real help going up hills. He does suffer with the weather if the temperatures rise and has been likened to a camel for his habit of inhaling several bowls of water following a run.

Tulsa has now retired - a little earlier than intended, primarily due to the arrival of so many pups in Sept 2003 and our subsequent
winter in the USA
. He did however, bow out on a high, as a wheel dog in the 1st place 6 dog team at the Scottish Siberian Husky Club race at Fort William in March 2003.
Looking very majestic,

Tulsa posing for the camera in Feb 02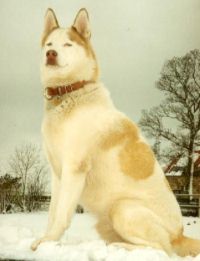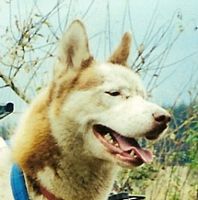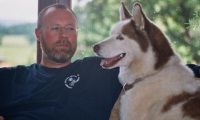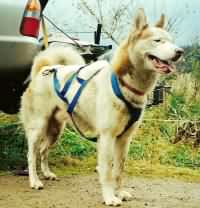 After finishing 2nd in the 3 Dog class

at a Sleddog 2000 organised race

at Kellouir Forest in Nov 1998

Even hardworking dogs like some quality time on the sofa