Gealach Mor Siberians

Working sleddogs - just for the love of it..............

Well, the new month has hardly dawned auspiciously, woke up this morning to some new snow and watched with dismay as it turned to sleet and then became horrified as even that disappeared to be replaced by heavy rain that continued to fall all day. 

A much better day, snow flurries and the odd sunny spell. Took the dogs to Warren for a run, running 10 miles and having a fine time. Due to yesterday's heavy rains, one of our main training trails at Hill seems to be under a couple of feet of water according to those who ran/swam it today.

Now this is more like it - awoke today to a very grey sky - caused by snow filled clouds which were dropping their loads. I knew something was up because the dogs had been playing loudly since 5.30.

Common sense prevailed and I left the sled at home but we did take the dogs to Warren again and ran a wonderful 10 miles on snow the whole way out and back.

If you've read Gary Paulsen's book " Winterdance", then you'll remember his dogs ' excitement at that first snow run. I swear these 8 dogs had the rig (which weighs 180lbs) bouncing off the ground they were so nuts to go this morning.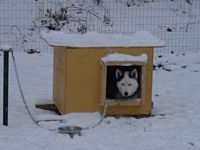 Seven, continuing her " I'm not having fun, you know" protest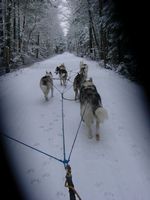 It's
Tasker's
tugline you can see disappearing to the left. He's just got his new Manmat harness which seems to have stopped his left leanings, now we just have to bring him back into the team.
Another beautiful day, the snow has continued to fall, gently, slowly and ever so prettily.

I decide to run the trail out of our cabin, which I've not done so far except by bike due to its rocky and bumpy nature. I hooked in the 7 big boys - in retrospect not perhaps one of my wiser decisions and off we went like something shot out of a cannon. The ankle deep snow served well to hide most of the larger rocks - right up until you hit them. The dogs were loving it, I was just hanging on and this was on the way up the hill.  Our run was cut short due to a couple of fallen trees blocking the trail - I had hoped to tire the dogs out a little before heading back downhill. I think at one point I had my eyes closed ! We made it home and it was great to be able to run the dogteam right to the front door of our cabin.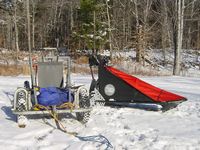 Saturday's big decision - sled or rig.

A little more snow has continued to fall, but so far no big storms or even enough to safely consider running a sled. We ran 12.5 miles at Hill this morning, which has rather amazingly completely dried up after its flood only 5 days ago. It also doesn't have any snow which is a little freaky considering I had a tricky time getting down my road in the dogtruck in 4 wheel drive. 

Low temperatures have ensured that the snow which has fallen has stayed - at least around our cabin. Some more gentle falls continued over the past couple of days and we are slipping and sliding around the ice in the dogyard. Took the team to Franklin for a 12 mile run and we had a couple of good head on passes with other teams out there.

Somehow I was talked into a late afternoon/evening run with my friends
Lidia
and Whatleigh.
We met up at Bristol mid afternoon and set off in reasonable sunshine, I had gone down to a 7 dog team as a precaution, in case the frigid evening air caused the trail to ice up and make things a little difficult. As it turned out, despite it getting down to well below freezing, the trail stayed dry and reasonably grippy. The back half of the run was done in darkness - which just served to remind me that I don't actually like running in the dark. One advantage of running
Harry
and
BB
at lead - Harry is dark and shows up against the snowy parts of trail, BB is white and can be seen on the grassy bits. It's always good to know where your leaders are.
The dogs got a long weekend break, partly due to yucky rainy weather but mostly because of today's trip down to visit
Taymarr Kennel
in Mass.
Taymarr is the kennel from which 3 of our dogs came from and I was delighted to be able to have this opportunity to go training with Bob. He has also very kindly offered to loan us a dog for remainder of our winter in the States.
Ubee
is a 9 year old leader and the mother of our boy Harry. Age has slowed her a little and Bob's main team are now too fast for her to lead, however, I am sure that she will have a lot to contribute to our team of yearlings.
I put Ubee straight into our team at lead and boy, does she live up to her billing.

We set off after Bob's team, who set a scorching pace and managed to stay on their tails for a few miles, before my guys had to slow down. Much warmer than we have been used to, the temps today in Mass were in the mid 40s and we have been running generally in the low 30s for the last couple of weeks. Plus, we are just not used to running at that speed for that distance. So much to learn.

Ubee familiarisation day.

Spent the whole day in the dogyard, introducing her to all of her new kennel mates. She is a very good natured dog and seems to be easy to get on with - however a couple of the young males are being a little "inappropriate" in their attention.

Ubee's big test. Would she run lead for me without chasing her home kennel dogs?

She answered that pretty convincingly within the first couple of miles, dragging our team past a loose dog and then taking her turn commands exactly as I had hoped. It was wonderful to see her guide the team around a new trail as if she had run it a hundred times.

A good 12 mile run on a day when the temperature managed to rise to the dizzy heights of minus 8 Centigrade.

Running from Bristol again, it was so much warmer today, a mere minus 2 centigrade. The dogs love these colder days and we stretched our distance to 13.5 miles with Ubee leading and setting a consistently quicker pace than the team have been running at. The great aspect of this is that the dogs seem to be working well at this pace - I guess we just needed an experienced dog to show us all what we are capable of.

The last few days have all been consistently below freezing and it is starting to have a wonderful effect on the scenery. The lakes and rivers are beginning to freeze up and the trees have a mantle of white.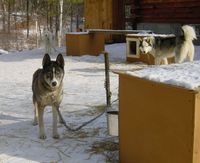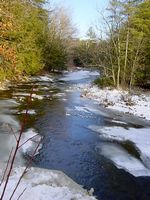 A Christmas tradition amongst the local group of mushers is to get together and have a group run where you decorate your rig or yourself in Christmassy stuff and just enjoy a fun run.

There were 11 teams scattered through the Hill training area this morning and it was great to see how well behaved all of the dog teams were in the multitude of passing opportunities.

Another lovely cold morning with the dogs working very well and running 14 miles with Ubee in lead and teaching some of her skills to BB. It's fun to see this small little girl muscle our much bigger boy round a turn he's not sure we're supposed to be going round.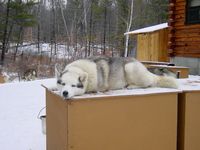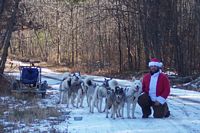 Yours truly, with Ubee and BB in lead

photo @ Scott & Linda Isabelle

Yeeehaaa, I think winter is truly here to stay, woke up this morning to fairly heavy snowfall, accumulating a further 4 inches by lunchtime and temperatures in the very chilly range.

Loaded the dogs into the truck, after clearing off all the snow, and headed over to Warren for a fun run.

The new snow was so light and fluffy that there was no chance of it holding a snowhook, so yet again the rig was in use, running through snow as deep as it's axles. A fantastic run, on virgin snow for the most part, only a snowmobile track on part of the trail showing that someone else has been out this morning. The dogs worked well and we ran the 9 miles out and back with out a stop.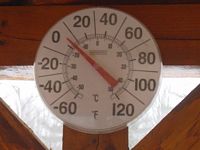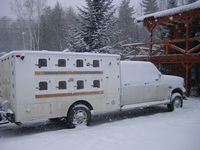 Seemed almost a shame to spoil the pristine snow with my footprints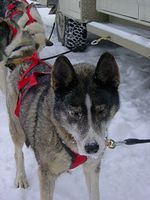 Ubee after the run, with her "snowbeard" where her breath has condensed and frozen against her whiskers

There's just about enough snow to run the sled - but not enough to hold a snowhook. The rig is pressed into service again at Bristol and we enjoyed a fast 13 mile run with all 8 dogs working hard and pulling well.

Looks like I may have been a little hasty in my celebration of the arrival of real winter.

Heavy rains and warm temperatures have completely washed away the snow at lower levels and have reduced our dogyard to an icerink. Yuck.

The preceding days warmth and wetness have now been combined with a couple of days of well below freezing temperatures. The result - a complete mess and the dreadful prospect of injuring dogs on poor trails. We headed out to Bristol again, despite warnings from others and managed an 8.5 mile run with the first string dogs,
BB
,
Milloy
,
Harry
,
Teague
and
Takeo
. The trail was a mixture of snow underlaid with thick ice on several sections, these being so slick the dogs had trouble getting a grip and going uphill was a real struggle. One part of the trail had shelf ice - where the river had overflowed and frozen, the ice layer was suspended above ground level - you could hear it creak and flex as we ran across it. The dogs didn't seem to be bothered but I certainly was.
I took out the second string dogs - but did a much shorter 3.5 mile run and stayed well away from the shelf ice.

Whisper it - there's snow on Bear Notch Rd............

The rumour mill is wonderful - everyone is looking for places to train - after all, the mid-distance race season starts in just over 3 weeks - and finally, a trail with enough snow to sled on.

We turn up, along with 4 other dog teams and around 200 snowmobiles. It is a holiday week. However, not daunted, hook up 6 dogs - remember this is the first time I've ever driven my new Danler sled - load the sledbag up with 80lbs of dog food - to slow the dogs down a little (they've been pulling a rig which weighs 190lbs, the sled weighs 25lbs) and off we go.

Oh boy, what a rush - the dogs don't care about the snowmobiles whizzing by, all they want to do is run. And then we crest the top of a long hill and stretched before us is a magnificent view

Not that I had time to enjoy it as the dogs plunged down the other side of the hill, a long, long, downhill with a series of sweeping bends, running ever faster. Sleds don't steer - no matter what the sellers try to tell you. Somehow I reached the bottom intact and turned the team around at the trail end. We then encountered the main problem with downhills - they have to be climbed if you're going back the same way. That fast, sweeping, mad descent became a long uphill trot - the dogs did amazingly well, never stopping during the 4 mile climb ( I measured it on my GPS ). A brief stop at the plateau at the top - more for my benefit than theirs - and we then ran back to the dog truck and a well deserved meal. A brief argument ensued about the distance, the snowmachine club claim its a 16 mile trail - the GPS says its 14 miles. Who cares - it was wonderful.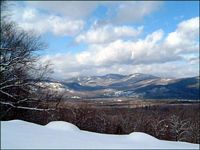 View from the side of the road

The weather forecast for the next few days is not good - so we decided to run Bear Notch Rd again - despite the huge numbers of snowmachines yesterday. A much earlier start got us there first and as it turned out, most the 'machiners must have had other plans - there were probably no more than 20 machines on the trail today. Getting brave ( or foolish) I hooked in 8 dogs, running Ubee in lead with her son Harry. Not being completely daft, I kept the 80lbs of ballast in the sled.

Parts of that run are a blur - 8 dogs can move !  The uphill proved to be much less of a hindrance with those extra 2 dogs and we came in at a good pace.

Ubee then proceeded to earn herself an extra chunk of salmon by guiding the team back to our truck along the narrow trail access, between three guys unloading their snowmachines - much to their surprise. What good dogs.