Gealach Mor Siberians

Working sleddogs - just for the love of it..............

OK,  I might have got a little carried away yesterday. It did snow for a good part of the evening - I was out playing with the dogs for ages. For the pups, this was their first experience of the  white stuff and they all romped and played like crazy except for  Seven, she was singularily unimpressed by the whole thing and sat under the sleeping pen roof and would not come out. Today it feels like I could be back at home, an inch of snow that lasts less than a day !

Takeo seems to have sprained his wrist playing in the snow, his joint is swollen and tender. Our first injury.

A new month and some new challenges. Today I hooked up 7 dogs to the rig and  we had our longest training run of the season so far - a really enjoyable 8.5 mile run at Franklin . This is a nice trail to train on, the main trail is a 12 mile out and back, however there seems to be a huge number of sidetrails and little loops to offer challenges and opportunities to confuse both  dogs and driver.

Back to Sanbornton for an easy run with teams of 6 and 5. It's great to see the improvement in the dogs in just 4 short weeks. This trail used to involve water breaks, rest stops and a debate with the leaders about the merits of a "come haw" turn - it was today run without a stop and we managed to turn around without incident or complaint.

Another new trail for me to explore, Beebe River is the home trail of my good  friend Lidia. It's pretty steep - and it's all uphill - well it certainly seemed that   way. Following her warnings, I decided to make things a bit easier for the team and add in another dog. Yep, we're now running an 8 dog team. Let me just tell you, there's a HUGE difference between 7 and 8, a fact that the team made me very aware of as they dragged the rig down the trail with the digger brake still down and me on the brakes. A beautiful day, finally temperatures get a bit cooler during the day and a fantastic 10 mile run - followed by a cooked breakfast at Lidia's.  It's all good.

After the madness of 8 dogs, it was back to normal at Franklin, two teams of  5 having an easy day clocking up 7.5 miles.

Beebe River - and a morning where the temperatures are showing  -7 C .

8 dogs again, I'm getting the hang of this, although the heavy rig definitely helps. The logging gates are open and we are able to run 13 miles, up onto the famous Sandwich Notch Road.

Now THAT is a hilly road.

Continuing my plan of rotating the dogs to try and ensure that they all get a chance to prove themselves, today's run at Franklin of 11 miles was one that Teague, amongst others, was to sit out. He has had days off before, but obviously he wasn't overly keen on the idea of not going today. Either that, or he thought that perhaps the dog box next to his had a better view.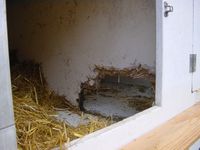 That's a dog head sized hole.

No pocket money for him this week.

Running 7 dogs again at Franklin - 9 miles added to our running log.

A day of firsts. My wife and her mother flew in for a visit a couple of days ago. This is the first time my mother-in-law has left the UK.

Took them to Warren which is the first time we've run there this year and we hooked up 9 dogs, our biggest team so far. The dogs ran really well, coping with the extra weight of carrying a passenger for the first time.

Giving the dogs a water break on the Warren trail.  Harry and Teague running in lead.

Getting brave now, after the dogs behaved well at Warren, for today's run at Franklin I decided to hook up 10. The only dog not running today was Teague. The power of that many dogs has to be felt to be believed - thank goodness for the passenger.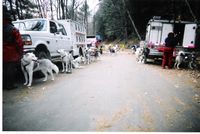 Dog trucks and harnessed dogs ready to go, the trailhead at Hill.

A solo run again, back down to 8 dogs running the hilly trail at Beebe River.

Probably our last run at Sanbornton, we ran 2 smaller teams, using 6 dogs to pull the rig, myself and a passenger.  It's a short trail, only 4.5 miles and the dogs worked hard. For the second run, BB and Teague, who had already run with the first team were surprised to be asked to go back out again. They responded well. Good dogs.

Back to Beebe River, running a 10 dog team with my wife as a passenger for the last time as she flies home tomorrow. Trey gets the day off.