Gealach Mor Siberians

Working sleddogs - just for the love of it..............

Born :   05.09.03                                                 Gender : Male

Colour: Black and White                                        Weight : 55 lbs

Position : Leader

Gealach Mor's Teague has been a real "people" dog from his youngest days - my earliest memories of him as a 3 week old pup was his desire to be cuddled or climbing up for attention. Cute in a tiny pup, adorable in a gangly adolescent, not quite so funny as a boisterous 55 lb muscly dynamo. Teague still loves the attention and is happiest when sitting on your legs as you relax in the dogyard.

2004 - 2005 season  In his first season, he proved himself to be a solid reliable working dog - and also spent some time running as a leader, benefitting from the experience of Ubee.

Teague clocked up close to 900 miles in that first winter and hopefully it's a solid grounding that will stand him and the rest of the kennel in good stead for future seasons.

2005 - 2006 season  Teague has been thrust into the limelight rather unexpectedly and unfortunately. With the deaths in October of Oakley and then BB in November, the team was left without a "recognised" leader. Teague was forced into becoming our main leader - a role I'm not convinced he was 100% happy about - but to his credit he  stepped up to the plate and did everything asked of him.

Not as confident in his own abilities as Oakley or BB, he hopefully will continue to develop and mature.

2006 - 2007 season  Sharing leadership duties with Harry, Teague has become the reliable type of dog that every team needs. Solid and consistent, he has lead the team well, including our win in the 6 dog class at Quithel organised by SSHC in March.

2007 - 2009 seasons For a variety of reasons, some health related, both mine and various dogs, a trip to Alaska,  extensive vehicle troubles and race cancellations, we actually only managed to get to one race in the last 2 seasons. Training was going well, and Teague was continuing to perform well at lead and point.

It's going to be a big jump from what we've been doing these last 4 years to what we'll be aiming for next season.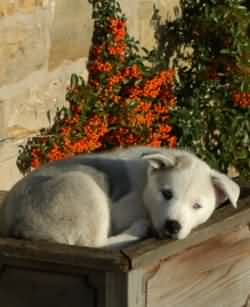 Flower boxes makes such comfy beds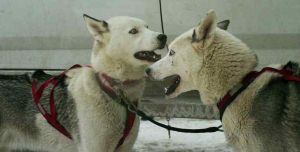 Finished the Craftsbury True Companion 30 mile race.

Milloy and Teague waiting to be hooked in at the start of the Craftsbury race. Jan 2005

Sharing some love with Teague after the Can-Am 30 mile race in Fort Kent, Maine March 2005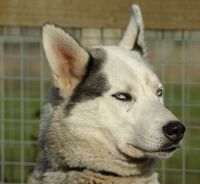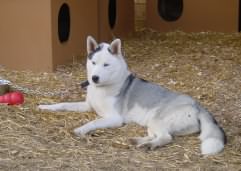 My bowl, my Kong, my bit of heaven