Gealach Mor Siberians

Working sleddogs - just for the love of it..............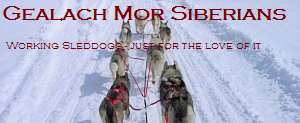 March is always the month that signals the end of winter and dog racing for us for another year.

It's a time to look back on another season gone by and assess how we did against the goals that we set at the beginning of September.

Normally, the first weekend in March is a decision of attending the
SDAS Championship
finale or sitting glued to the computer watching the
Can-Am
250 "blobs" - usually the Can-Am wins......  we knew several teams racing in this years event, so it was even more exciting than usual.
Our dogs had to wait a couple of extra weeks for Spring break to start, as we had decided to run at the Scottish Siberian Husky Club's rally at Quithel, taking place on 24 and 25 March 2007.

Offering a trail length of 6.6 miles ( amongst the longest on the season), as one of the kennels pushing for greater distances in the UK, I felt compelled to support it.

The rally was well attended and very well organised - altho if we could have had a little less sun in the morning, that would have been nice.

The
SSHC
tends to offer 2 one day races, so the results for each individual day count in their Championship. This was our first SSHC race of the year, so we weren't in it for points. Saturday saw us finish 4th in B Class (6 dogs) and on Sunday we managed to improve that up to 1st.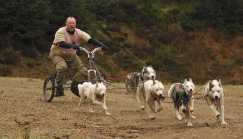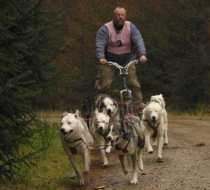 Downhill hairpin on Saturday at Quithel

On our way on Sunday at Quithel.

Photographs from
Moray Portraits
. To purchase photographs, please contact them.
As for assessing our winter and the team's progress, I feel we were definitely hampered by a couple of major factors.

One - my back injury in December - which resulted in the dogs sitting idle for over 7 weeks.

Two - the 2 trips I made to New Hampshire in November and January. Whilst those were both fantastically useful in continuing to develop my knowledge (and enable me to bring home Wink), the disruption to training, combined with my sore back, really told on the team.

Bring on next season, the majority of the race team will be battle hardened 4 year olds - and hopefully, we can have much more consistency in our training regime.