Gealach Mor Siberians

Working sleddogs - just for the love of it..............

Wink is another of our American imports. She came to us in November 2006 as a 4 year old from our friends Mike and Sue at Tsuga Siberians in New Hampshire.

Wink ran on Mike's Can-Am 250 race team in 2004 and has been on many of their 30 and 60 mile race teams.

She settled in very quickly here and has shown herself to be a real bundle of fun, instigating many race and chase games. She has also adapted to house life too - and has finally been convinced that there are no wild animals living behind the TV, no matter how much it sounds as if there are.

Wink has also settled into running with our guys and has slotted in as if she has been with us forever.

Hopefully, we will get the benefit of her long distance mileage in the years to come.

For a variety of reasons, some health related, both mine and various dogs, a trip to Alaska,  extensive vehicle troubles and race cancellations, we actually managed to only get to one race in the last 2 seasons. Training was going well, and Wink was continuing to perform well in the team. She has also occasionally been asked to lead and has done, but perhaps not with the utmost desire.

It's going to be a big jump from what we've been doing these last 4 years to what we'll be aiming for next season.

Born     :  04 11 2002                              Gender :  Female

Colour   :  White                                         Weight : 40lbs

Position  : Team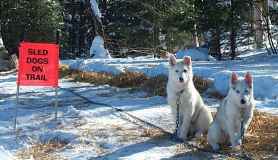 Wink and her brother, Ambler, sitting patiently waiting for their team mates to return from a training run.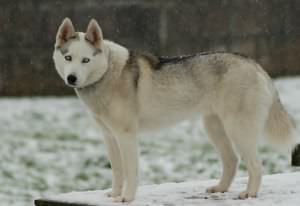 A sprinkling of snow for Wink, January 2008