Gealach Mor Siberians

Working sleddogs - just for the love of it..............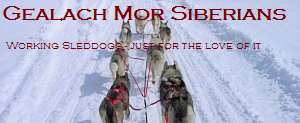 Notes

Complete results for these events can be found by clicking on the link under Location.

A good consistent season of running with a steady improvement from last year as the 4 boys settled into a cohesive unit.

Highlight of the year had to be our first ever race win, although coming 12th in a class of 46 at our first Aviemore race was memorable too.

Some of these races were 2 one day races, rather than 2 heats.

Date

28 Oct

10 Nov

11 Nov

24 Nov

25 Nov

15/16 Dec

12 Jan

13 Jan

20/21 Jan

2/3 Mar

Team

Oakley, OB, Tulsa, Bhu

Oakley, OB, Tulsa, Bhu

Oakley, OB, Tulsa, Bhu

Oakley, OB, Tulsa, Bhu

Oakley, OB, Tulsa, Bhu

Oakley, OB, Tulsa, Bhu

Oakley, OB, Tulsa, Bhu

Oakley, OB, Tulsa, Bhu

Oakley, OB, Tulsa, Bhu

Distance

3.4 miles

3.7 miles

3.4 miles

3.4 miles

4.7 miles

4.5 miles

4.5 miles

4.35 miles

5 miles

Time

21.26

18.19

16.21

15.36

14.46

23.21 / 22.46

23.46

22.53

21.28 / 19.01

27.48 / 27.10

Position

5th

10th

6th

3rd

1st

4th

4th

4th

12th

7th