Gealach Mor Siberians

Working sleddogs - just for the love of it..............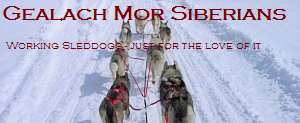 We were reasonably satisified with the team's performance at the
Ae race
. It was a little milder than we would have liked, with the starting temperature around 44 F.  The good news was that Trey ran both days and seems fully recovered from his slight wrist strain. Both he and Takeo are getting the Algyval and wrist wrap treatment after each run, as a precaution.
My wife's work has taken her away from home quite a bit  this month which has limited the amount of time I've been able to head north and run the dogs.