Gealach Mor Siberians

Working sleddogs - just for the love of it..............

A new month, the same weather as the last few weeks - yes, it's snowing again. Will I ever get bored of getting up in the morning and being excited to see several inches of fresh snowfall? Somehow I don't think so.........  and yes, you'll just have to suffer another photo of my truck with it's early morning blanket.

I had considered taking the team down to Hill to give them a flat easy run, but the sight of so much fluffy powder convinced me to go again from the house. Once again, I hooked up 10 dogs to the sled and set off for a 20 mile adventure through 8 inches of soft snow. Fortunately a couple of snow machines had been out and made some sort of trail in the new snow. Ubee's impending heat cycle is starting to cause some difficulties - Teague was eventually persuaded to run lead beside her.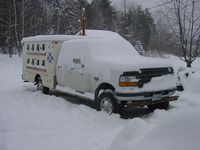 5 inches fell overnight and continued to fall steadily all day.

Updating the website as an alternative to the stress of trying to pack the truck for the Can-Am race up in Fort Kent, Maine. I have mandatory equipment scattered across the kitchen, ticking off check lists and wondering just how many layers of clothes to take. Ubee has had to be removed from the dogyard - and is currently lying sleeping under my chair.

Oh dear Lord, who set the alarm for 03.45....................

With some difficulty I roused myself and turned on the dogyard lights to try and do the same to the dogs - without success. Eventually got everyone loaded and set off on the epic drive up to Fort Kent. I'm sure the neighbours would have been delighted to hear the last of Milloy's mournful howls as we headed north at 5.00 am.

Finally pulled into Fort Kent at 14.30 and headed over to register the team and find my "Adopt-a-Musher" family, who had graciously agreed to host myself and the dogs for our stay. Got my bag of goodies, race bib, race manual, vet check schedule and directions. Attended the drivers' meeting which was very well organised and carried out in French and English, occasionally at the same time...........

A rather startling discovery for me was that the race start takes place in the middle of the town and the dog teams run down the pavement for about half a mile with spectators on both sides of the "trail". My worries about my young dogs and Ubee's heat cycle increased and led to a fairly restless night.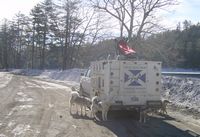 Dropping the dogs en route, Skowhagen, Maine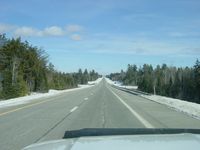 The view ahead up Interstate 95, nothing but trees and snow.

Race Day.

Considered probably THE premier race event on the east coast, the town centre was full of dog trucks well before 7.00 am, all trying to get to their allocated space. Once parked, dogs were dropped and the streets started to fill with spectators and handlers all milling around. Free coffee and donuts were available for all, so breakfast consisted of 2 coffees and a chocolate donut - not exactly a sports nutrionist's recommended start to the day.

A team of vets descended on our section of trucks and proceeded to poke, prode, manipulate and stethoscope all the dogs, before deciding who was or was not fit to race. Decision time - Ubee has to stay - the young males just cannot concentrate when she is around - a recipe for disaster I fear in the middle of a crowded main street start. This means promotion to the race team for Trey, a feat considered very unlikely by me earlier in the year. The 170 miles he ran with Michael during his stay here has really brought him on. So our team for this big race consists of 5 yearling brothers from our first litter and Harry who will not be 2 until May. Our start time is 09.54 - the rest of the morning passes in a blur, checking dogs again, mandatory equipment check,  sign here, initial that, put spare gloves and hat in sledbag, suddenly it's time. Harness the dogs, booties for Trey and Takeo. Standing in the queue of sleds - nerves tingling - my mind is racing at all of the possible disasters that could befall us and then thankfully we are up. Handlers holding the sled, I get the chance to talk to each dog, trying to reassure them and myself that we can do this, BB and Teague in lead, Milloy and Trey at point, Harry and Takeo in wheel. Countdown and we are gone, unbelievable, running past shops, cheering, clapping crowds, kids lying under the barricades on the snow and the dogs just running, past the people, not caring just happy to be out there.

The 30 miles start deceptively - the first 6 miles or so are along a flat railroad bed, the dogs are moving well, loping for the first few miles and I'm surprised to see the team ahead us, the dogs increase their pace and we haul them in and pass them. Soon after we get passed by the eventual winner and the dogs chase her much faster Alaskan team right up till we leave the railroad and start the endless climb upwards. And upwards. Interrupted only by a lake crossing and then up again - in  deep soft snow. It's times like that I wish I was fitter and a whole lot lighter. Crossing open fields where the wind had scoured away all previous signs of other teams, BB proved to be awesome in scenting and led across a couple of wide open areas, seemingly sure of exactly where we should be going. Our pace had dropped off by now and we got caught by a couple of teams and pretty much convoyed in behind them - added incentive when labouring up more of those big hills not to allow the teams in front to stretch away. Finally the finish loomed - the last section is down the ski slope coming into the ski-lodge, wow, what a view as your dogs drop down the slope and you career down after them. Crossing the line, more vets appear to check the dogs, race marshalls check the mandatory equipment in the sled and finally I get to cuddle and thank my dogs. They have worked so hard, done so well and BB and Teague ran lead the whole way, with only one moment of indecision. As worried as I was about leaving Ubee out for this race, it benefitted me, the dogs and my trust in them. I doubted that BB could trusted to perform to the level needed - but he proved me wrong and led us well.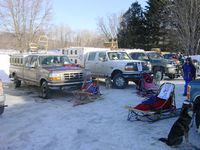 Part of the 30 mile race team car park, Ubee sits patiently, waiting to find out if she is going to make the team.

A nice feature of the Can-Am is the Awards Breakfast for the 30 and 60 mile races held on the Sunday morning at the ski-lodge beside the finish line. A really nice feature of that - the mushers get to eat for free.

After having eaten our fill and watching the prizes being awarded ( nothing for 21st out of 30), it was time to think about the long drive home. Loaded the dogs and headed south, the snow falling and the road down to a single track. Fortunately a few miles on, it eased and I could make better time. Eventually we got home at 20.30, the 893 mile round trip over. The dogs seemed really happy to be out of the truck and free to run around their yard.

A few days off for the dogs and suddenly the end of our adventure seems very, very close. Lidia and Whatleigh arrived to run this morning and we set off - my 10 dog team, Whatleigh with 8 and Lidia with her 6.  A beautiful day, wonderful trails and a sense of having been part of something amazing. One of the things I have noticed is my concept of distance has changed - today's 16 mile run is now considered a short run.

I guess as long as the snows last, it makes sense to run the dogs as many times as I can before we go home. I took my 10 dogs out on the very short 7 mile loop as we had many things to do today and tonight.

Scheduled as our last run - with the small group of mushers that we have become very close with during our stay here. More snows on the Saturday, over 8 inches in some places had ensured that Hill - which had a reputation for not holding snow - was in good condition and very pretty with trees laden. After the many weeks of running the dog teams up and down hills, it was nice to run at Hill which is the flattest trail around.

A couple of excursions off the main trail into deep powder indicated that it might be wiser to stay on the main trail - however as this was to be our last run, I wanted to attempt the river crossing, which leads over to the Sanbornton trail which we did so much of our Fall training on. A couple of snowmachines had been over, so it appeared unlikely that a much lighter dogteam would have any trouble.

Left the other teams behind and crossed over and ran a mile or so on the other side before turning back and recrossing the river - it might be safe, but it's not going to last much longer, there were definitely a couple of soggy spots.

A fast run back to the truck and we all piled into the local Dunkin' Donuts for a final farewell coffee.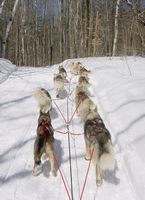 Our 10 dog team stretches off into the distance

BB          Teague     (lead)

Seven      Fina         (point)

Milloy      Trey         (team)

Tasker     Vader       (team)

Harry       Takeo      (wheel)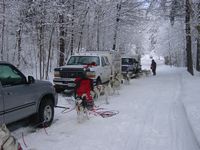 Hook up time, 6 teams, 37 dogs.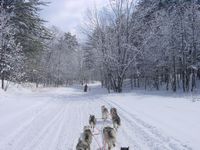 BB and Teague chasing down Scott Isabelle's team.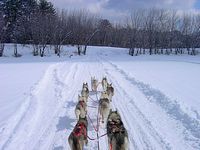 Crossing the river and heading for the safety of the bank on the other side.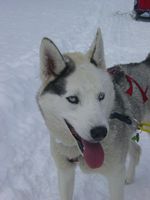 Vet check scheduled for today to comply with the terms of the Pet Pasport - the dogs need to be wormed and treated with a flea/tick killer. Thanks to Dr Sweet of Rumney Animal Hospital for looking after our dogs - and the discount too!

I wasn't going to run the dogs today - but somehow, knowing that they fly home tomorrow, it seemed crazy not to. I hooked up our regular 10 dog team and set off for one last trip round the Scheller trail.

It was a strange run, the dogs ran well, worked quietly and solidly, not requiring corrections and only needing gee and haw commands - and yet instead of feeling happy and proud of the steady team they have turned into, it was with a heavy heart that I stood on the runners and guided them home for the last time. Truly a "schadenfreude" moment.

Is it too soft to say I love these dogs?  Or to consider that they have become "proper" sleddogs?