Gealach Mor Siberians

Working sleddogs - just for the love of it..............

A beautiful sunny day and reasonably cool temperatures and I ran on the trails out of our cabin for the first time in a while. Since the last adventures there, we've had approximately a foot of snow and the snowmachine club has been out and groomed. What a difference - the water bars have been filled in , the ice is covered over and the trail is wonderful. I ran the second string dogs for 10 miles which they completed well and seemed to enjoy. The first string dogs got the shorter 6 mile loop, having raced on Saturday I thought they would appreciate an easier run. Apparently not so - they were definitely not in the least tired as they tore home downhill - hmmm, maybe should have taken them a little further.

Drove down to Boston today to collect my friend, Michael McRae, (famed sprint racer in Scotland - or so he tells me). Actually he did threaten to bring his latest trophies over to show me, but was persuaded to leave them in his cabinet with all the others.

Loaded up the truck with dogs, sleds and Michael and took him down to Hill to break in his new Danler sled. The trail was in good condition, it's wide and flat and nowhere to get lost or fall off - and despite my best efforts leading him into the few exciting spots, Michael held on and ran his new found companions, Vader, Seven Trey and Milloy (on loan from the "race" team)  for 13 miles.

Despite my better judgement, I somehow got talked into entering the sprint race organised by the New England Sled Dog Club. To even things up, Michael was entered too - I ran in the 6 dog class and we put him in the 4 dog - after all, I didn't want to get beaten by my own dogs.

The conditions weren't great, there was just enough snow but the temperatures were warm, hanging around the 41 F mark most of the day. There was a bit of confusion at the start of the 6 dog Sports class which resulted in a few teams having to go out at the end of the class, and us going out 30 seconds late. Sprint racing seems so frantic after the calmness of 30 milers. It was also a LONG day as my run was finished by 10.45 and Michael was not due out 16.00 - having drawn number 103.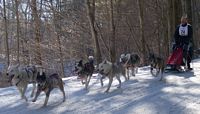 Coming into the finish at Hill, Ubee and BB running lead as ever. Fina moves up to the race team as I gave Milloy to help Michael.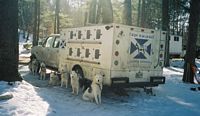 Michael's team waiting for their turn.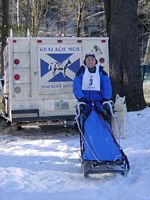 Michael posing for his publicity shot and sponsor appeal. Nice matching sledbag and jacket!

Somehow we ended up back at Hill for the second day of the sprint race - obviously we hadn't had enough standing around yesterday. Conditions were no better, still warm and the snow had taken a hammering from around 80 sleds the previous day. I improved my time by a minute and a half , despite having to drop Takeo because of a slight wrist strain, but was unable to improve my final position of 9th. Michael had a slower run but was much happier with the performance of the dogs and questioned the accuracy of the clock.

We did enjoy our days and met some wonderful people and watched the open class go out - quite a sight these big teams powered by 16 dogs tearing up the trail.

After the nonsense of our sprint race, it was back to my more normal training routine with an eye towards the Sandwich Notch 30 mile race in a couple of weeks. We loaded the dogs and headed north to Bear Notch for an easy 16 mile run. Still warm, even at the altitude of this trail, conditions for large sections of it were poor with some areas of road showing through. However, having driven there we decided to run it anyway. Michael stuck with "his" team of 4, but I had to shuffle the pack to get 6 dogs - Takeo was still resting his wrist and I gave Teague the day off as he seemed to be a little sensitive on a rear foot. Due to the temperatures, we took it easy and carried water and just enjoyed the run - it is a wonderful trail with great scenic views. The teams ran shoulder to shoulder a lot of the way - good job it's a wide trail.

With only a couple of miles to go, Beth decided she had had enough and didn't want to do any more work. Rather than pushing her - after all she only made the trip because of her mothering qualities - I stopped and put her in the sledbag and she sat back and enjoyed the ride to the truck.

However, the adventures were not yet over. With about a mile to go (we had caught up with both Michael's and Lidia's teams), we were surprised and rather alarmed to see a dog lying at the side of the trail. It was Takeo. He had broken out of his dogbox and run up the trail to watch for us coming back. He jumped up and paced the team straight back to the truck, just in front of the leaders. I realise how fortunate I am that Takeo chose to wait close to the truck and trail as Bear Notch is a huge wilderness area that has already seen the loss of a sleddog this season that got away from her team. So much for not running him because of his sore wrist. He had already escaped from the truck once before, his door is reinforced with steel plate and fiberglass - to escape this time, he chewed a hole in the wall and then he pried the door off its hinges.

What makes it even more of a feat of escapism is that Takeo weighs 70 lbs and stands 26 inches at the shoulder.

To make matters worse, during the drive home we stopped

for coffee in Lincoln. On getting out of the cab I could see

Takeo standing with his head and shoulders protruding from

the other box he had been put in. Yes, he had trashed another

door - completely shredding the bottom of it and pulling the

steel bars out. Needless to say, he drove home on the

backseat of the truck and promptly fell asleep and never stirred

till we got home.

Close to the top of the 4 mile long climb up Bear Notch Rd.

10 hard working dogs.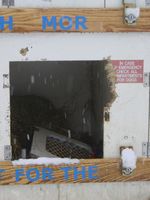 Awoke to a strange silence - over 8 inches of fresh snow has a real sound dampening effect. Sat watching with delight as the snow continued to fall thick and heavy. By lunchtime we had just over 12 inches. The photos below give you some idea of just how deep it all got. We had to dig the dog boxes out in the lower half of the yard due to snow drifting and almost completely covering them.

The weight of the snow had bent over the fine mesh I had used to raise the height of the proper fencing. Trees were bowed over and the photo above shows Michael being covered after clearing a tree branch.

Spent most of the rest of the day making tea for Michael as he earned his keep repairing Takeo's dog box. The whole inside of the box has now been covered in 1/8 inch aluminum plate to try to reduce the likelihood of another breakout.

After complaining all winter about the lack of snow, we were unable to run the dogs on the trail here due to TOO MUCH SNOW - ahhh at last!  Carefully measured a flat area and am glad to be able to report that the total snow fall for yesterday was 24 inches.

Set off for Hill to run two teams, fairly sure that there wasn't as much snow there - a predication which proved to be very accurate - amazingly the main trail at Hill was mostly ice, what snow had fallen seemed to have ben blown away. We took the trail up to the dam, an interesting, narrow, twisty trail with some bare spots and a few large puddles of jumbled thawing ice. The dogs did well and we managed to avoid a few speeding snowmachines.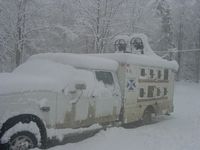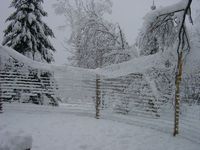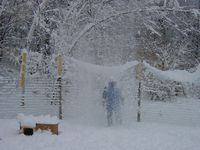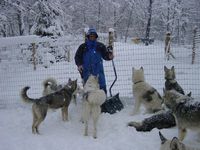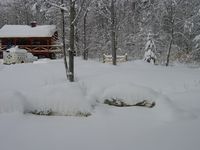 Mid afternoon, still snowing.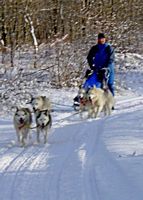 Michael on his way home running a 5 dog team,

Vader and Seven lead the way.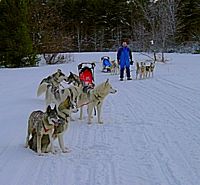 Having a short rest close to the dam. Fina hopefully learning some leader skills from Ubee.

Oh boy, more snow. Another 4 inches have fallen over the last 24 hours. This is getting silly now - digging the dog boxes out every day.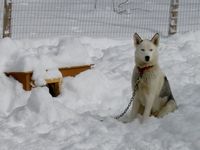 Milloy contemplates entering his igloo.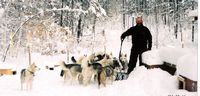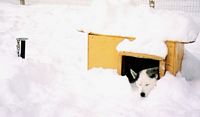 Seven has made herself a lovely snowpacked chinrest. That stakeout post to the left of her house is 42" high, there is only 6" left above the snow level.

Hooked up all of the dogs  except Beth and ran two teams out of the yard, accompanied by Lidia's team of Yukon Huskies amd Malamutes. Michael ran Vader and Seven (lead) Fina and Trey (point) and Tasker at single wheel. I had Ubee and BB at lead, Milloy and Teague (point) and Harry with Takeo at wheel. We completed the 23 mile loop round Rocky Pond without incident - despite the large number of snowmachines out on the fresh snow. The vast majority of the drivers are very courteous and do slow down to pass, but there's always one or two who spoil it.

Ran from the house again - it is great to be able to hook up from the dogyard - but I think that finishing at home is the best part. No need to carry all of the dog gear in the truck, there's warm water on tap and the dogs get to relax straight away. Today we were joined by Whatleigh of Barking Brook Siberians, she ran an 8 dog team and both Michael and I were running 5 dogs. It was nice to be the team doing the following for a change. Michael ran the same team as yesterday, while I rested Takeo - today's trail was shorter, only 16 miles, but took us up and down a couple of big hills. My notes on my trail map just says " STEEP".

Oh yeah  - while I remember, it snowed again.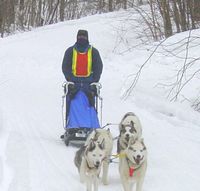 Michael's team - the orange safety vest has seen a lot of use. I wore it all autumn during hunting season to avoid being shot, now we wear it so that the snowmobile drivers see us.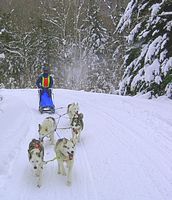 Such a beautiful day/trail/run. Vader and Seven are working well together. Trey has been a relevation - he has really put his "working" head on over the last couple of weeks and is getting stronger and harder working all the time.

After a couple of rest days for the dogs, we again hooked up 2 teams for a run round the Scheller trail - which was cut short for my team when Harry started limping after about 4 miles. I took the short cut home and after some debate with his leaders, Michael convinced them to continue and finish the full 16 miles. Some rest for Harry and an Alygval massage is on the cards.

For a change of scenery, we headed over to Bear Notch and planned to explore some of the side trails which loop in and out of the main trail. Despite some last minute haggling and threatening behaviour, I was unable to retrieve any of MY dogs from Michael and had to make do with 5, seeing as Harry was on sick leave following yesterday's run.

In complete contrast to our previous run there, there was now a wonderful deep covering of snow.  The last time we ran here, Beth decided that it really was too steep and that everyone else ran too fast for her - the same happened again today, this time she quit on Michael running down the hill - and then proceeded to generally hold things up anytime the rest of her team started moving at more than a trot. Not to be deterred from our run, once again Beth was offered the bag option - which she literally jumped at.......  we did cut short some of the run and headed back up the long slog. I felt so proud of my team, they now had Beth as additional cargo and yet proceeded to trot up the 4 miles that is the climb home.

Beth enjoying her ride home - after about an hour in the bag, she did make a bid for freedom and had to be zipped fully in.

Today is Sandwich Notch race day - and today we are sitting in the house, drinking coffee and listening to snowmachines blasting about the trails. The race got cancelled last week due to lack of snow - something hard to take as we flounder about in the deep powder.

With the cancellation of the SN race, that leaves me with just the Can-Am to wrap up my season. I have always loved being out on the trail with my dogs and this time here has only confirmed and intensified those feelings. Training for mid-distance races gives me a great excuse for spending time on the runners. Michael and I each took a small 5 dog team out the 23 mile Rocky Pond loop -it's a slog, lots of hills but still fantastic fun.

Michael's last day here - and still time to squeeze in one last run before heading south to Boston for his flight home. Harry seems to have recovered and so we were able to hook up 6 dog teams, on the short 7 mile loop, just a short, fast fun run.

More snows, more hard work for the dogs running through soft powdery trails, so in an effort to make it easier for us all, I hooked up my first 10 dog team and ran the Little Rocky Pond trail for the first time - wow,  it's nice to have those extra dogs doing some work. What a difference to the power and feel of the sled as all of the dogs really pulled. One minor drama before we left - Ubee started spotting - I was horrified - the boys were all excited and I could see my carefully selected race team go to pieces before my eyes. Why couldn't she have held onto her season for 7 more days........

After trying several dogs beside her, I moved Trey up to lead with no great expectations - boy, was I wrong. He did a fantastic job, ran with Ubee for around 20 miles before he got too tired to run and lead.

With 5 miles to go, I switched BB back up to lead, and he took us home at a good pace, these spells where he runs back in the team seem to energise him and make him relish the opportunity to run at the head of the team again.

The front yard looked like a race site - there were dog trucks everywhere. Visitors bringing dogteams to run and have lunch.

There was quite an eclectic collection of teams out there, the Siberians being run by Whatleigh and I, Lidia's Yukon Huskies and Malamutes, Vicki and Hiram's Malamutes and their friends Scott and Terri, running Inuit dogs.

After some debate, we agreed on the Scheller trail as being of suitable length and set off at decent intervals for the 16 mile run. A beautiful day, it was good to set off last and a few miles into the trail, see these big freighting dogs climbing the long hills and chase them down.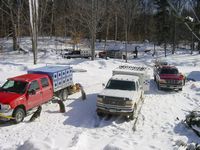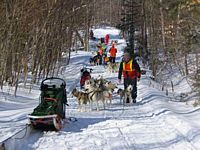 Taking a short break on one of the hills, the queue of teams headed by Terri's Inuits with my Sibes the first team in the photo. Teague running co-lead with Ubee.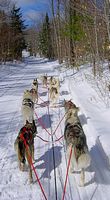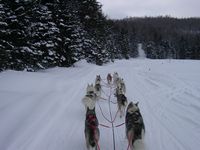 Climbing on Corridor 5, it's a long way to those lead dogs

Little Rocky Pond on my right, the trail climbs up into those trees ahead - and then drops rather dramatically down the other side.