Gealach Mor Siberians

Working sleddogs - just for the love of it..............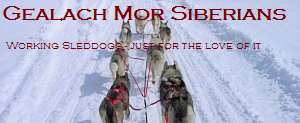 Spring and summer tend to be relaxing times for the dogs here at Gealach Mor. I like to let them have a complete break and expend any energies they want chasing any local wildlife foolish enough to enter their field.

However we do have some news and we are excited to show off our latest arrival,
Gwaihir's Aruya
.
We collected Ruya on 7 July from her breeders. She has settled in well and should be a fine addition to our kennel.

Our friends in New Hampshire,
Tsuga Siberians
, have just confirmed the most exciting news.
Mike
is entered in the 2008 Yukon Quest. If you are interested in sponsoring him and his wonderful dogs, please contact them directly.
It takes a whole lot more than money to run this amazing race, but a whole lot of money is needed all the same.

Inka got to make friends (cough) with Chukchi's Jupiter. Sadly, it appears their union is not to be blessed, but they certainly seemed to part on the best of terms.