Gealach Mor Siberians

Working sleddogs - just for the love of it..............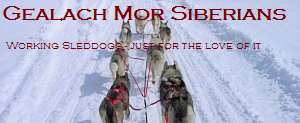 November is here and I'm off to the USA again.

I very much admire the way Mike and Sue run their kennel and work their dogs. I'm looking forward to having to learn the characteristics and natures of their 28 dogs. I'm also excited because when I come home, I'm bringing back one of their dogs.

Wink
is a delightful little half Seppala, half Kodiak bitch.