Gealach Mor Siberians

Working sleddogs - just for the love of it..............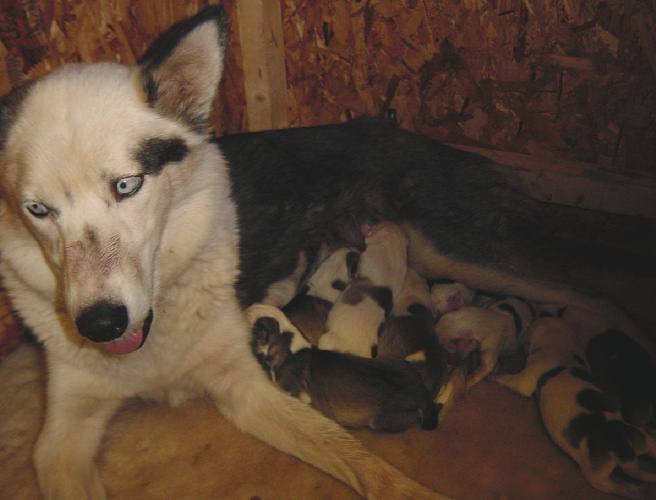 Bethie and her litter - born 5 Sept 2003 - she is doing a fabulous job of looking after her 6 boys and 2 little girls.

Hard to believe that it has been 8 weeks since the pups were born. They continue to grow at an amazing pace, eating us out of house and home and generally enriching our lives.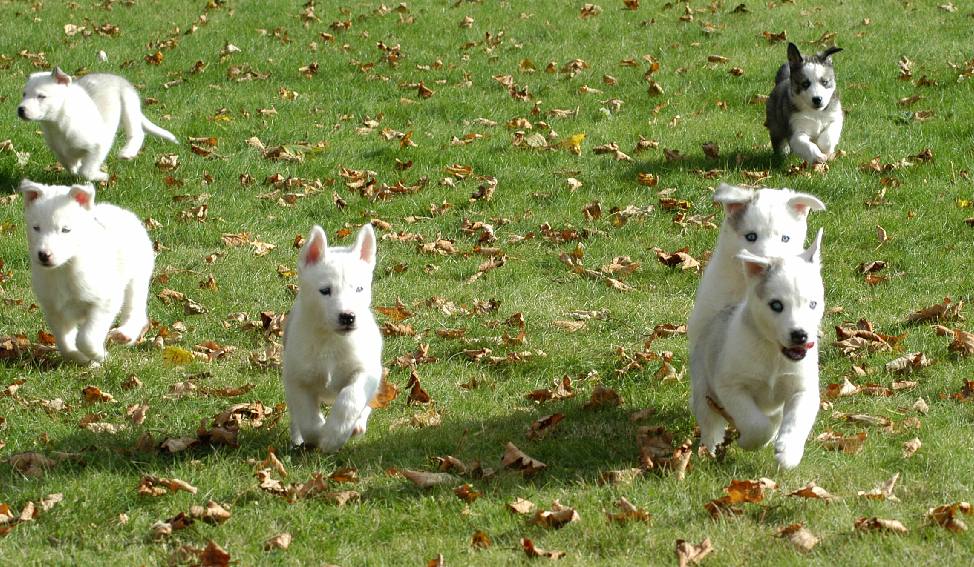 Catch me if you can.  Teague leads the way to the dinner bowl - Trey is hot on his heels.

What a Valentine's Day treat !!!

Our puppies, perhaps objecting to the long lie imposed on them on this Saturday morning, gave us their first "group" howl. The big guys soon joined in - rather drowning out the little ones and diminshing the romantic effect.

Well, it seems like the blink of an eye, but those darling little babies are now 6 month old HUGE monsters........

Check out their new pictures on the
Puppy
page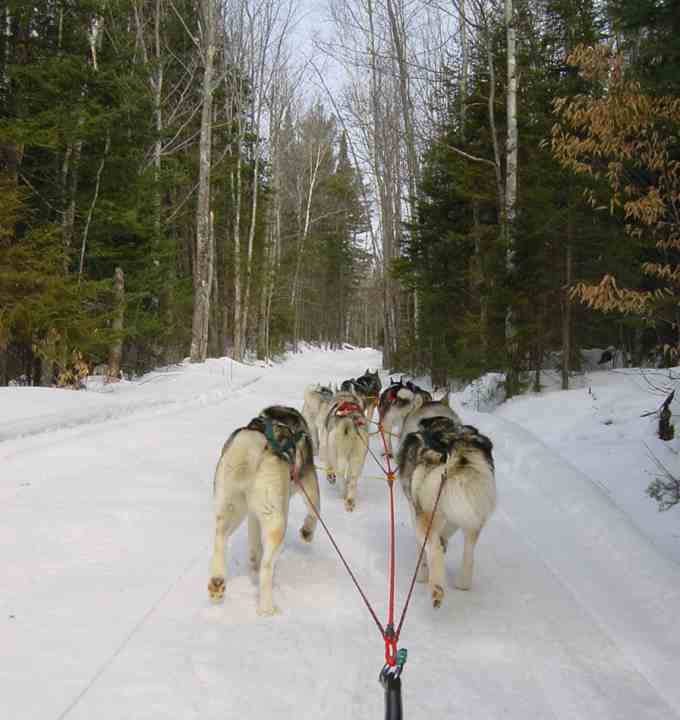 26th Feb 2004    Running an 8 dog team on a training run in New Hampshire. The dogs belong to Whatleigh Torsey of Barking Brook Kennel. She very graciously lent me her dogs ( and sled, lines, harnesses etc).

All returned intact.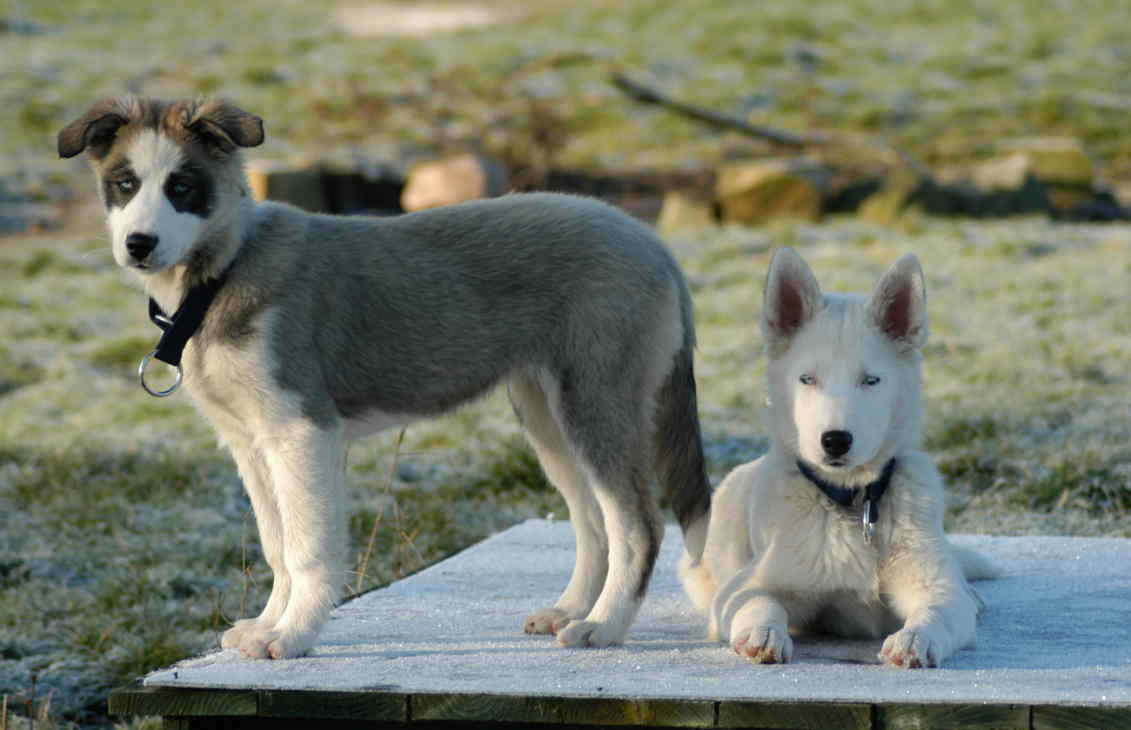 21 May 2004   We are pleased and proud to welcome Taymarr's Harry to Scotland. Harry was bought from the same kennel as our two previous Seppala Siberians and arrived today via Heathrow, entering the country under the Pet Passport scheme.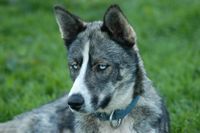 21 June 2005  Summer seems to have finally arrived in Scotland - the sun has been shining for a few days at last. The dogs are feeling the heat but at least we seem to have groomed out the last of the winter coat from them all.

12 April 2005    After our racing season in the States,  it was nice to get home on the 18 March and be reunited with the rest of the dogs. 10 of our race dogs made it safely home but Vader had a problem with his microchip and had to go into quarantine while we tried to get the problem resolved. After an Xray to locate the chip and surgery to remove it, the  chip was sent back to the manufacturer and they have eventually managed to extract the vital information. It has just been confirmed that Vader can be released and he is now on his way home.

24 September 2004     Gealach Mor Siberians are off on the adventure of our lives. To read about our winter of excitement please click
here

All Gealach Mor dogs are powered by Eagle Pack.

Tuesday 18 October 2005     After only 4 days of illness, Oakley died at 4.00 am. He was at the Edinburgh Unversity Vet School on an IV drip and being treated for an unknown disease.

Now, some 3 weeks later, the results of his post mortem have come through and we can stop worry that it was something contagious that could have gone through our entire kennel.

It seems he had systemic histiocytosis - a kind of leukemia.

Oakley  --  my lead dog, my friend. May you run free and never get into trouble for stealing things ever again.

                                         Gwaihir Sharmichutkha      aka   Oakley

                                             31 July 1996  -  18 October 2005

Thursday 24 November  2005   Following a routine operation, BB developed peritonitis and despite the best efforts of all at our own vets and the intestinal specialists and surgeons at the Edinburgh University Vet School, he could not be saved. By the end, all we wanted to do was to stop him having to suffer.

Coming so close to the loss of Oakley, BB's death seems doubly hard to bear. Such a young dog, full of the promise of youth, with such a great first working year behind him. He is a huge loss to our working kennel - but an even greater loss in our lives and hearts.

BB, my young leader, explorer, adventurer and campfire companion.

                                         Gealach Mor's Speedy Beebe  (BB)

                                          5 Sept 2003  -  24 November 2005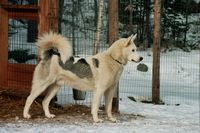 11 January 2006   After what seems like an eternity, we are delighted to welcome home our newest arrivals. Inka and Nadia are a pair of delightful, hardworking Seppala Siberians purchased from Chatanikas Kennel in Michigan, USA.

We are looking forward to incorporating them into our pack, our team and our lives.

                          Inka                                                      Nadia

It is good to finally have some better news to post on our site after the struggles through the autumn.